Demonette Volleyball First in District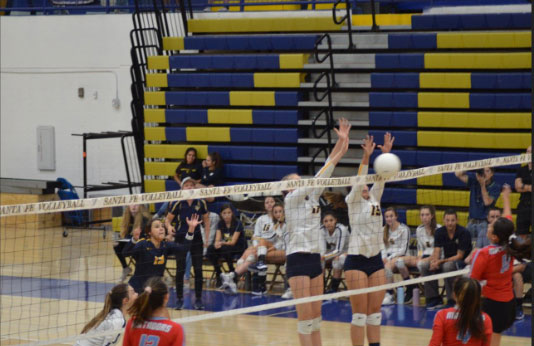 After the first round of district play, the Demonette volleyball team has risen to first place in their district and third place overall in the state, with many of the players making top five state rankings.
The girls have played five games in district so far, playing against Albuquerque High, Sandia, Manzano, Capital, and Rio Grande. Every game has resulted in a win, placing the Demonettes in first place in their district.
The team started the second round of district play on Oct. 17 with another win against Albuquerque High. Many teams are looking at Santa Fe High with the hunger to win.
With all of this added pressure and a target on their backs, the Demonettes are practicing even harder. Head Coach Josie Adams believes the team can be first in district this year. "Well, we always expect to win and we always play to be number one, so that's the journey we're on, and we believe that we could be number one."
Not only are the Demonettes first in their district, but they are also ranked third in their division (5A) according to NMAA, with La Cueva in first and Centennial second. Coach Adams believes that the team is getting better and better and hopes that they can get to the finals. "We took fifth in State last year and … we definitely want to improve upon that," she said. "We'd like to be there on the last day in the finals."
Contributing to the Demonettes' shot at state is the team's standout players who are ranked high statewide. According to NMAA, Courtney Brookover is ranked as the number -one setter in New Mexico, with 565 assists. Salome Romp is ranked third for kills with 255, and tenth for 39 aces. Jorja Chambers is ranked fifth for 77 blocks, and has the highest hitting percentage in the state. Isabella Melton has the second-highest percentage while Salome Romp has third.
Not only is the varsity team doing well, But JV and the C-team are also ranked first in their district as of Oct. 21.