Four SFHS Students Are Simon Scholars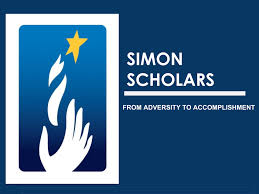 Hang on for a minute...we're trying to find some more stories you might like.
Four sophomores from Santa Fe High have received Simon Scholarships this year: Brenda Villegas-Reza, Naomi Peña, Maros Cano, and Lesley Salinas.
Brenda is very excited about her accomplishment. In particular, she looks forward to the new opportunities for life after high school and the extra emotional support that will be provided. "If I didn't get the scholarship, I definitely wouldn't be going to (a four-year) college," she said. "After high school, I'd be working and taking classes at the community college." Now, Brenda has her eyes set on the university life.
Marcos Cano said he originally applied just to get the free laptop that the Simon Foundation offers its recipients. Now he sees the greater benefits: "I'm really excited for the guidance and the money that my family will get throughout high school and college."
The Simon Scholarship was created in 2005 by Steve Simon. His goal was to create a program to help kids who are economically disadvantaged. This program goes beyond financial aid, as those who receive the scholarship many benefits offered to them, such as tutoring, counselling, and even summer getaways.
To apply, sophomores submit a detailed application, including two letters of recommendation, their family's most recent tax returns, their high school transcript, and essays about their strengths and struggles.
The application, as well as the essay prompts, can be found here: https://www.nmsimonscholars.org/how-to-apply/