2019 Brings Fun New Video Games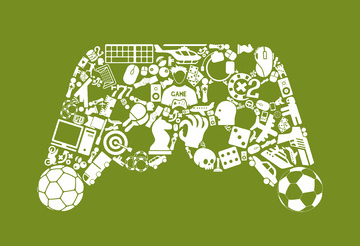 A new year, and it looks like 2019 will be fun and entertaining in terms of video games. 2018 was a great year for gaming. "Spider Man," "Red Dead Redemption 2," "God of War" and "Monster Hunter World" are just a few of last year's many gems. 2019 is bound to do better.
The Division 2
"The Division 2" is a third-person RPG shooter PvP, PvE loot and grind game being developed by Massive Entertainment. According to their website, "The Division 2" story will take place in the downfall of Washington D.C. where lawlessness and instability threaten our society: "Rumors of a coup in the capitol are only amplifying the chaos. Various factions, vying for power in the wake of the crisis, are aiming to claim D.C.'s future for themselves. Only Division agents are equipped to take on these new threats and protect the civilians that remain."
The crisis started in the first Division game when a bioterrorist attack occurs and an unknown strain of the smallpox virus, The Green Poison (also known as the Dollar Flu), hits New York City. The "Division" agents are "an elite group of civilian agents charged with being the last line of defense."
What makes this game really cool and interesting is the map. It is a 1:1 representation of the real city. "The Division 2" is set to release March 15 and will be able to be played on PlayStation, Xbox, and PC. The private beta starts Feb. 7.
Days Gone
"Days Gone," a PlayStation exclusive that is made by Sony Bend, is "an open-world action game set in the beautiful, high-desert of the Pacific Northwest two years after a pandemic has transformed the world," according to the PlayStation website. The gameplay demo looks like fun.
The main character, Deacon St. John, is a biker who is struggling emotionally and trying to find a reason to live. Hordes of Freakers (zombies) chase after John, enemy humans try to kill him, and also nature itself comes after him during his adventure through the apocalypse.
The way players deal with hordes of Freakers and other enemies is completely up to the them. John's motorcycle, which is his primary form of transportation throughout the game, is upgradable and customizable. According to the developers and gameplay, the game features a dynamic weather system that affects how Freakers act and can affect how the player completes missions. Also, when completing missions and side missions, John earns "trust," which is used to purchase upgrades to his bike and better weapons. A post apocalyptic multiplayer mode sounds like it would be a fit, but unfortunately there will be no multiplayer. This game was originally set to release Feb. 22 but then was delayed to April 26.
The Last of Us Part II
Another post-apocalyptic game, "The Last of Us Part II" is also a PlayStation exclusive. It is a third-person action survival game. This game takes place five years after the first "Last of Us" and about 25 years after the outbreak of the Cordyceps Brain Infection began, according to The Last of Us" fandom wiki.
Reviews for the first game are very positive. IGN, a video game and entertainment website, gives the game a 10/10 and calls it "an outright masterpiece." This game is being developed by Naughty Dog, same as the first game. The main characters, Joel and Ellie, are the same except, according to the same website, Ellie will be the sole playable character unlike the first one where Joel was the sole main character. Not much news has been released after E3, but the game is expected to be released late 2019 or early 2020.
Metro Exodus
Another game is "Metro Exodus," a first-person shooter, post-apocalyptic game. It has a mix of action, survival and horror and is being developed by 4A games. A ten-minute gameplay shown by IGN on Jan. 16 gives off a Mad Max vibe with its taking place in a barren territory.
According to PlayStation's website, "A quarter-century after nuclear war devastated the earth, a few thousand survivors still cling to existence beneath the ruins of Moscow." "Metro Exodus" is set to release on Feb. 15 on all platforms.
Devil May Cry 5
"Devil May Cry 5" is an upcoming action and adventure "hack and slash" video game developed and published by Capcom. This game takes place a few years after the events of "Devil May Cry 4" and 2.
According to Trusted Reviews, the story takes place in Red Grave City. The main character, Nero, runs his own branch of the demon-slaying organization: "Our hero finds himself having to fend off demons once as an ancient tree takes root in the city center." It ends up starting all sorts of problems for the demon slayer to fight against: "Nero is chasing after his Devil Bringer, his magical arm which has been stolen by a mysterious figure who will seemingly play a large role in the plot." Capcom has announced a playable demo coming to all platforms on Feb. 7, and the game is set to be released March 8.
Elder Scrolls 6
"Elder Scrolls 6," an upcoming game in the series, is an action RPG game that takes place in a beautiful open-world fantasy setting. Last year the developer, Bethesda Game Studios, uploaded a 37-second trailer, but not much news has been released since then. "Elder Scrolls 6" is set to release late 2019 or early 2020 on all platforms.
"Anthem, Sekiro: Shadows Die Twice," "MLB The Show 19," "Mortal Kombat 11" and "Rage 2" are some of the other games being released this year.