Cheyenne Garcia Accepted to NMSU Swim Team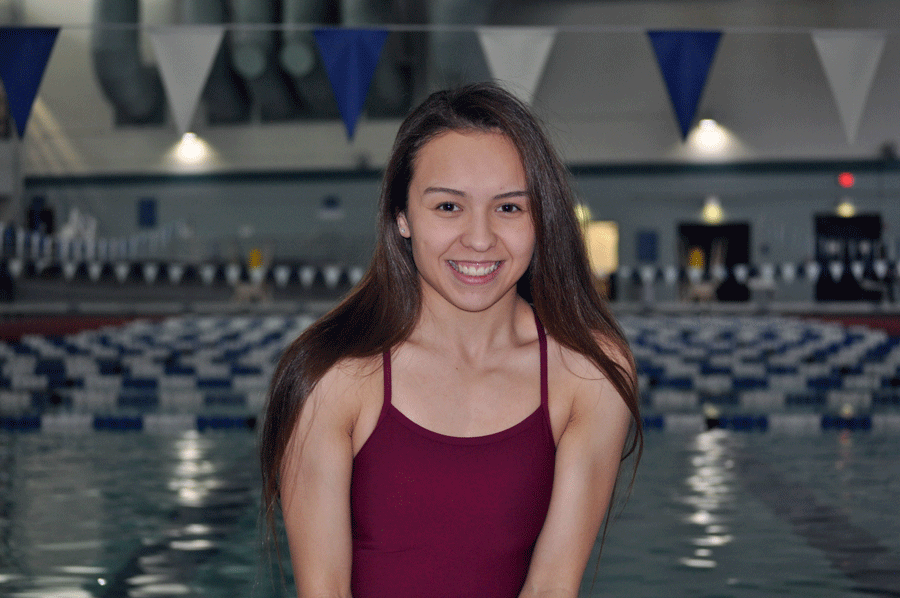 Jennifer Campos Chavez, Author
April 10, 2017
Santa Fe High senior swimmer Cheyenne Garcia, who holds a school record for the girls 100-yard breaststroke (1:07:27), will be swimming at NMSU next fall.
How long have you been swimming?
"I've been swimming for four and half years. I learned to swim and survive in the water going into my freshman year of high school. I had a water phobia before — I was deathly afraid of water. I didn't want to get near a pool. But I got into swimming through my phobia because my mom said, 'You have to learn how to swim for your safety."
How did that work?
"My mom signed up my sister and me for private lessons with a local swim team, the Santa Fe Aquatic Club. My sister and I had personal lessons with the assistant coach. He saw potential in us, so he had the head coach come and watch us swim. She said, 'You girls are really talented, and I want you to be on the team.' So my sister and I did that. In January, I was invited to the team and, of course, I joined."
What is your personal record?
"I'm the school record holder in the girls' 100-yard breaststroke, and I've always been on the girls' A-team relay. At the district meet last year, I was champion in the 100-yard breaststroke and the 200-yard freestyle, and then this year I was again the district champion in the 100-yard breaststroke. I missed the district record by one-hundredth of a second! It was very frustrating. My best time for the high school record is 1:07 and, I believe, 53 or 54 one-hundredths of a second."
By how much did you break the school record?
"I broke it by over a second. The 100-yard breaststroke was set with a time of 1:08.83 by Robin Romero in 2006. Last year I broke her record with a 1:07:35 and re-broke my own record this year."
What kind strokes do you do?
"Well, I'm definitely a breaststroker — that's my best and favorite event. I mainly specialize in breaststroke, and the next stroke I really pay attention to is freestyle. At most of the high school meets I swam breaststroke and freestyle events. I also specialize in the individual medley where you swim 50 yards of each stroke, which are butterfly, backstroke, breaststroke and freestyle. That one I enjoy because you can sprint each 50, and if you're not good at long-distance you don't worry about that."
How about the relay?
"So both years I've been on the team I've made the A-team relay. There are three different relays in high school swim, and there are four people on a relay. One of the relays is the medley in which every swimmer swims a different stroke, so obviously I swam the breaststroke leg. The other two relays are all freestyle, so everyone swims freestyle in the relay."
What are your future plans?
"My future plans are to swim for New Mexico State this upcoming fall. Also, I will be majoring in kinesiology, which is a branch of exercise science, and possibly minoring in psychology or Spanish. I hope to one day enter into a career in which I stay involved in athletics, such as a swim coach, athletic trainer, or even get involved in the management part of a professional sports team."