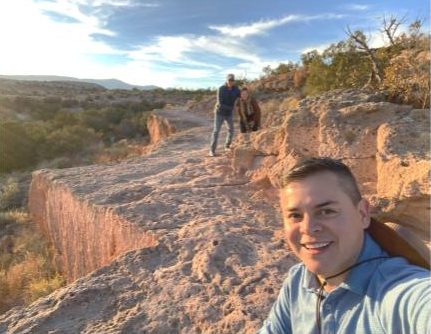 Alejandro Vidal, who joined Santa Fe High's team in 2022, teaches Spanish 1 and 2. Mr. Vidal moved to Santa Fe the year before from Philadelphia, where he lived most of his life and taught high school Spanish for twelve years. He spent his childhood in Colombia. 
Mr. Vidal attended Temple University in Philadelphia, earning a bachelor's degree in Spanish for education and a master's in secondary education in foreign languages. Mr. Vidal thinks learning and teaching other languages is fun and gives students a different perspective about people and various cultures.
Mr. Vidal says he enjoys everything about teaching: "There is nothing more rewarding than seeing [students] explore the language, with curiosity and great pleasure." Mr. Vidal says he is glad to be able to contribute to Santa Fe High's learning community. He looks forward to continuing his teaching adventure and experience at Santa Fe Public Schools.
Mr. Vidal shared that during his high school years, he had three incredible teachers. They taught him about history, art, and math, but most importantly they were role models who taught him "patience, creativity, dedication, resilience, and passion for education." 
In his free time, Mr. Vidal works at his house on small home improvement projects. He also goes hiking at least twice a week in the Sangre de Cristo Mountains. He follows soccer, enjoys nature, plays the piano, and says he is "an aficionado of art." 
Mr. Vidal also enjoys spending time with his family: "I am very fortunate to have a wonderful family," he said. "I have an amazing partner, who is our rock. We have a niece/daughter, who is a senior at Santa Fe High. The three of us enjoy spending time together, doing puzzles, and going on road trips. And we love to pick each other's brains with trivia questions."