Divison One Demon Athlete: Alex Waggoner
Alex Waggoner has been quenching an athletic drought in Northern New Mexico with a splash so vast it might just rain down overseas.
In early September, Alex announced his Division 1 soccer commitment to the University of Michigan in Ann Arbor. 
Alex established himself as a standout in his class early on, something he said college recruiters took notice of rather quickly. He also received a D1 offer from Stanford University in his senior year, but he chose to explore his options as he did not want that first opportunity to stifle others. 
¡Somos Unidos!
Following his demonstration of dominance in New Mexico's high school soccer scene last year (he broke the state goal record and Demon soccer won the state championship), Alex left high school soccer and earned a spot on the New Mexico United Academy. 
Alex landed a spot as the "lone striker" on the academy roster, a position in which he alone plays farthest up the pitch towards the opposing goal. The NMUTD "first team" practices six days a week at the same facility as the U-19 academy team, in Albuquerque, leading to an integrated feel between the tiers within the organization. In fact, intrasquad scrimmages are common on weekends when both teams have a clear schedule. 
Alex made an impressive debut in his first two games with United, scoring three goals and clocking two assists. The academy squad is set to compete in the USL Academy championship cup this November in Tampa, Fla. 
One and Done at SFHS
In the summer before his junior year, Alex migrated south from Taos into the 505 district, joining the Demons in time for the 2021 season. 
With Alex on the team, the Demons went on a historic tear through the 5A division. In the spring of 2022, he was awarded the Gatorade New Mexico Boys Soccer Player of the Year award, gaining him national recognition and more attention from elite recruiters.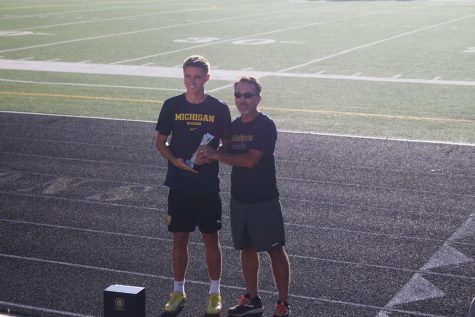 The Demon soccer state title crusade last year marked the emergence of a dominant program, one headlined by the goal scoring algorithm constructed around Alex. Although he seemed to streak on to the scene just last season, Alex was a standout on the pitch long before Sports Primo began to broadcast his successes. 
Southwest Soccer-verse
Alex began terrorizing opposing coaches of the Northern Soccer Club at age five, displaying a skill set that geared him to join a club team at age 10. He earned a roster spot on the New Mexico Rush Soccer Club, an organization umbrellaed under a larger national corporation headquartered in New York. Alex was placed on the '04 team (for players who were born in 2004) where he flourished as an individual, but more importantly cultivated his skills as a teammate and established connections in the Southwest soccer-verse.
Following his alliance with Rush the year prior, Alex was invited to an Olympic Development Program tryout when he was 11, and was promptly recruited. 
Alex also met Demon soccer player Michael Wissman, Jr., through Rush. The chemistry of Alex and Michael's game combined to concoct a lethal serum of explosive movement and goal-scoring that led them to rip apart competing elite soccer programs across the Southwest with Rush through the 2022 season. Alex's friendship with Michael, who graduated in 2022 and now plays for Fort Lewis, was certainly a factor in his decision to play for SFHS last year.
Wolverine Waggoner
Last winter, Mr. Eadie, the head coach of boys' Demon soccer, reached out to the University of Michigan, his own alma mater, and organized Alex's participation in a two-day camp in February where the most elite high school recruits competed for a spot on the Wolverines roster. Alex described the camp as "a loose series of 11 v. 11 scrimmages with about 100 players." Seven months later, Alex received the official offer from the Michigan coaching staff.
This is a win-win for Coach Eadie as he gets to see his student and former player thrive at a high level, and he still gets to root for Michigan!
Alex is scheduled to arrive at Ann Arbor in July 2023 to prepare for his freshman season on the team. While playing with a new set of teammates on the other side of the country may seem petrifying to many, playing with strangers is something Alex has been doing his entire career while playing with club to club. 
The agreement he signed with Michigan locks him in for four nonconsecutive years of college, meaning he could leave the university for a few years to dabble in pro soccer and then return to get his degree. 
Alex plans to apply to the Ross School of Business, a sector within the university that has a highly rigorous curriculum and competitive selection process. He is considering majoring in marketing to earn his BBA or taking a pre-law/government policy track to follow in his father's profession.
Alex's acceptance to Michigan makes him and Molly Wissman the first D1 athletes to emerge from Santa Fe High since the late J.B. White. (Molly is headed to the University of Denver.)
Striking Ahead
Despite no longer suiting up in the Demon blue and gold, Alex continues to be a proponent, mentor, and volunteer on the Demon sideline as they seek a second state championship win this year. Alex's passion for the game and the deep connections he's built with former teammates are apparent as he cheers from the sidelines at every Demon goal. 
Alex prides himself on being a perpetual student of the game with an endless passion for the sport. "I watch pro soccer pretty much every day," he said. "It's fun to pick up on their tendencies to improve my own game." In fact, Alex began mindful breathing before each game as a method of meditation, a focus tactic he picked up from Norwegian soccer star Erling Haaland.
In regard to his soccer career, Alex remains open to whatever opportunities present themselves. "We'll see," he says. The MLS draft would be the most direct and reliable path into professional soccer, but if something arises in Europe he says he will be quick to pounce. 
He does have his mind set on one thing, however: playing for the U.S. Men's National Soccer team.