Demon Band Hosts Young Musicians on Middle School Night
Demon Band invited band students from Gonzales Community School, Eldorado Community School, Aspen Community Magnet School, and Milagro Middle School  for the football game against Los Lunas on Oct. 14 in Ivan Head Stadium. The guest musicians performed in the stands and then Demon Band performed its field show.
Approximately 300 band students participated!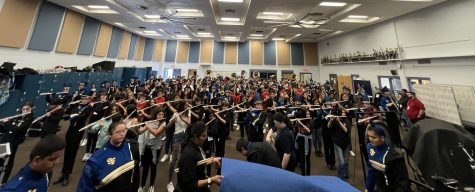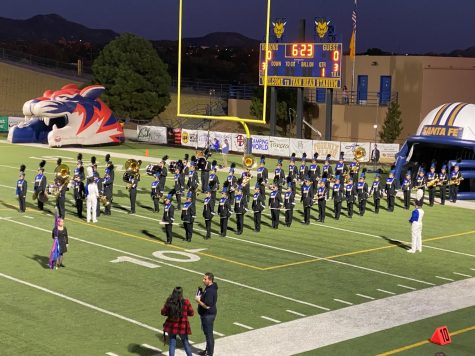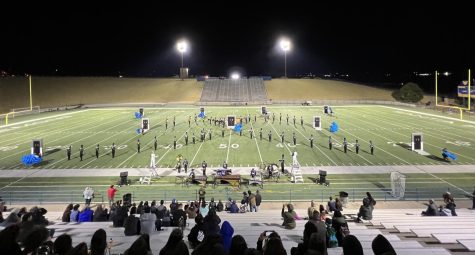 In other news, 25 students were selected to play in the New Mexico Music Educators Regional Honor Band, which encompasses almost all of Northern New Mexico. The concert will be held  Nov. 19 at SFHS.
Abigail Frey – Piccolo
Maya Harris – Flute
Lila Lindeen – Flute
Paige Tomkins – Flute
Emily Dunston – Flute
Alex Lovato-Herrera – Bassoon
Nathaniel Steiger – Clarinet
Dulcie Quinn – Clarinet
Addison Smith – Clarinet
Amanda Barrera – Clarinet
Sophia Buchan – Clarinet
Callan Cox – Bass Clarinet
Tyler Golden – Alto Sax
Everest Gessler – Trumpet
Gwen Muchmore – Trumpet
Will Leon Galdamez – Trumpet
Aiden Coblentz – Horn
Ian Wald – Horn
Itzel Ruiz-Olvera – Horn
Jack Tager – Trombone
Roman Amador – Trombone
Leo Rodriguez-Foss – Euphonium
Annalyn Gutierrez – Tuba
Shyanne Naranjo – Tuba
Brody Silver – Percussion
Upcoming marching band performances:
Oct. 22: Pageant of Band Competition at Rio Rancho
Oct. 28: Final home football game
Nov. 3:  Final home/performance @ 8 p.m. in Ivan Head Stadium
Nov. 5:  Bands of America Western U.S. Championships at Dixie State University in St. George, Utah