What Happened to Our School Spirit?
Santa Fe High is known for its fierce teams and competitive players. Although we are strong with love for "the game," we seem to lack love for the players. Have we lost our school spirit? 
Players giving their all on the field and students not cheering them on. Students not participating in whiteouts and the themes of the game. Tiny pep rallies full of nonchalant students. Have we lost our touch? What school with a population of 1,600 students does not have a student section? Do we enjoy getting shown up by other schools? 
It hasn't always been this way. Many classes before us set examples of what school spirit should be, like the classes of the '70s and '80s did. "Players made you feel a part of the brotherhood," said Joe Abeyta, who was part of the 1986 football team. "All it took was working hard, giving 100 percent and fully buying into it. It was definitely something special." 
Mr. Marano, who graduated from SFHS in 1989 and served as principal from 2016 to 2021, said, "The pep rallies were lively and students enjoyed being at sporting events. We had great school spirit and supported each other.
"When I attended Santa Fe High, the stands were full at all of our home football games.," Mr. Marano continued. "School spirit was alive, and it was the place to be."
Earlier classes had the stands packed with students. (See image in this story, from 1986.)
They seemed to very much enjoy the games and support their team. "We all looked forward to the games, and it was all part of the high school experience," Mr. Marano said.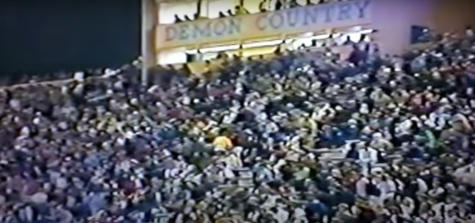 However, English teacher Ms. Bunker, who graduated from SFHS in 1994, reported that many students then also didn't have much school spirit. ¨Our football team was parallel to now. … Some kids had school spirit and some scoffed at it.¨
Science teacher Ms. Anaya, who graduated from SFHS in 2003, said, "The student section was actually a student section where we all sat together, cheered together, and paid attention to the games." 
She recalled other activities the school did to get the students excited about games. "We had spirit assemblies where the administration would bring out a spirit stick and all the different classes, freshman, sophomores, juniors, and seniors, would compete to be the loudest class. "I wish the students today would have the same enthusiasm and support from all staff and admin," stated Ms. Anaya. 
Homecoming is a big event in any high school. Back when Ms. Anaya was a student, she recalled, "Homecoming week was designed to bring creativity and allow the students to have fun. The theme days led up to everyone wearing Demon gear on Friday for the game." Few students now even participate in spirit weeks when they can dress up in fun different ways. 
"Students looked forward to attending the games and brought so much energy to the athletes and coaches," said Ms. Anaya. 
Today's student-athletes state that not having a student section is a huge letdown. ¨I go to the games ready to play but then when I see there isn't anyone in the stands, it just makes me not want to be there,¨ said Bryce Melton on the football team.. ¨I just want more support.¨
Our student section and school spirit are very different compared to our rival schools. For the football game against St. Mike's on Sept. 3, the majority of the crowd was St. Mike's fans. They dressed out, participated in chants, and were very into the game. On the home side were a few students, but mainly families. 
Many students just don't want to go to the games. Some say they can't go because of their grades. Many say they don't feel the need to go when "all we do is lose." One student said, "Sometimes I just want to stay home."