Demon Soccer on the Rise
Everyone knows what a championship-winning team looks like, but what does a post-championship team look like?
The Santa Fe High men's  varsity soccer team won its first-ever state championship in November 2021.  But according to MaxPreps, the team lost 12 seniors from last year's team, including Mike Wissman, Jr.,  who is now playing for Ft. Lewis College in Durango, Colo. The team lost Gatorade Player of Year and top scorer Alex Waggoner, who now plays for New Mexico United Academy.  And, midfielder Ivan Lozano transferred to the Barca Residency Academy in Arizona.
It was an open question of what a post-championship team would look like this year. The answer has been an 8-2 record, as of Sept. 22, and a number-3 statewide ranking. 
Several of those games were decided in the last minute, or in overtime. For example, on Sept. 17, the team had a huge come-from-behind victory of 3-2 on Nathan Kingston's game-winning shot, which hit the back bar, bounced off the flopping-backward Cleveland High goalie, and then hit the back of the net.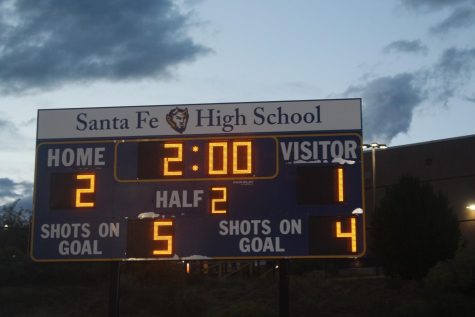 According to MaxPreps, the team has an even offensive distribution, with eight players having at least one goal, which is a big change from last year when Alex Waggoner scored most of the team's goals.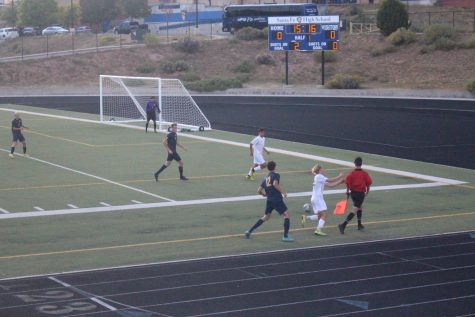 From last year's State-winning team the varsity have retained three starters: Evan Eadie,  Max Anderson, and Owen Lock. Captain Max Anderson says he hopes the team will "place top two in our district" to help the Demons be selected for the state playoffs.
The junior varsity men's team also boasts a winning record of 5-1, as of Sept. 22. This includes a 1-0 win against Cleveland High School and a 2-0 win against Los Alamos.
Both teams will begin their district play against highly ranked Albuquerque High School and Rio Grande High School.