Santa Fe Southern Railway To Reopen
The Santa Fe Southern Railway train will soon be running again from Santa Fe to Lamy.
Novelist and screenwriter George R.R Martin, along with Bill Banowski, the owner of Violet Crown, and Catherine Oppenheimer, co-founder of NDI New Mexico, have bought the Santa Fe Southern Railway Company. The sale was reported in  The Santa Fe New Mexican on May 18.
The three bought the train line because, Banowski said, "We want to breathe life into this old train." The trio said they did not want to see the "financially challenged railway" fall into further disrepair or just fade away like other famous railways that are no longer in service.
The railway, which is a private spur line that goes from the Santa Fe Depot on Guadalupe Street to Lamy Station, was originally owned by AT&SF (Achetson, Topeka & Santa Fe).
When AT&SF closed in 1992, the railway was sold to make two new railways: the BNSF (Burlington and Northern Santa Fe), which would take over the rails that AT&SF had used to serve many areas of America, and the SFSR (Santa Fe Southern Railway), the line from Lamy to Santa Fe.
The railway consists of seven railcars and two electro-motive diesel engines. The first engine was the EMD GP 93 that carried cargo and tourists from Santa Fe to Lamy from 1992 to 2003. The second engine was the EMD GP 07 locomotive that we see to this day. It was purchased in 2003 when New Mexico purchased the Rail Runner Express.
The company was the most well-known railroad company in New Mexico until it declared bankruptcy in 2012. It was so famous that on Aug. 12, 2012, it was featured in the series Breaking Bad.
Thanks to the trio of new owners, the railway will not have to be scrapped and it can give tourists and New Mexicans an experience of a lifetime once again.
Plans include repairing the tracks and bridges from Lamy to Santa Fe, sharing Lamy station with Amtrak, and providing an array of entertaining arts and cultural events on the trains excursions.
If all goes well, the trio plans to renew a deal with Amtrak so the Southwest Chief line stops at Lamy and perhaps restores a now-vacant position for a ticket agent.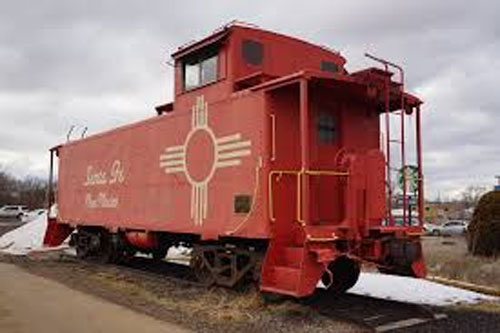 This caboose on St. Francis Drive used to belong to AT&SF, but when the railway closed down in 1992, it was given to the Santa Fe Southern Railway, which ultimately gave it to Santa Fe as a gift.