Kate Gomez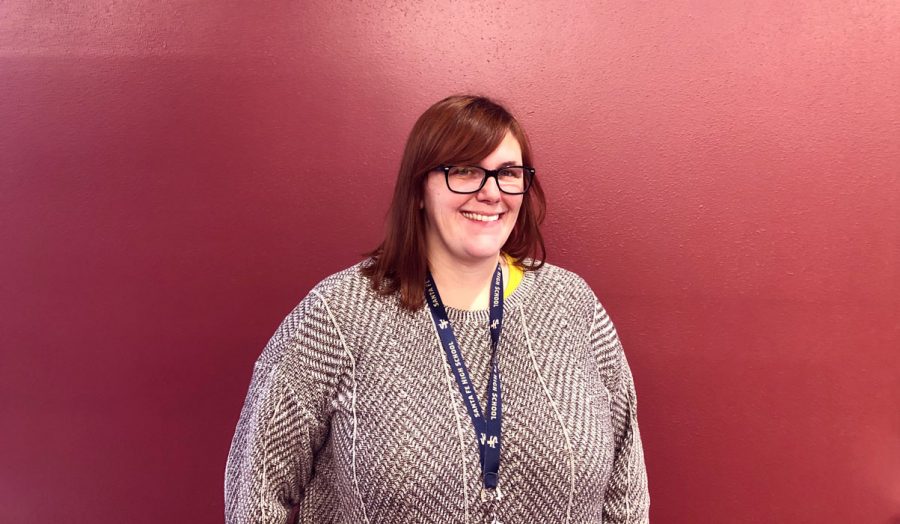 Kate Gomez is a digital learning coach here at Santa Fe High and is well known as the Chromebook Lady. Her job is to support teachers as they integrate technology into their classrooms while also teaching Drivers Ed. 
Ms. Gomez was born and raised in Norton, Vermont, a small town about 500 feet from the Canadian border. "It was so close to Quebec, so we would go up there for almost everything," she said. 
She graduated from Canaan High School, home of the Fighting Eagles, in 2001. It was a very small high school with just 25 kids in her graduating class. During high school, she was a part of theater, choir, and Key Club. Ms. Gomez was also vice president of her class and started a school newspaper. 
Once she graduated, Ms. Gomez moved to Standish, Maine, where she attended St. Joseph's College. In the fall of 2002, she moved back to Vermont where she attended the University of Vermont. She double-majored in art and psychology because she wanted to be an art therapist. In 2005 she earned her BA in psychology. 
Once Ms. Gomez graduated from UVM in 2005, she worked at a teen crisis center, working with teens who had mental health issues or needed to learn new coping skills. After a year of working there, she decided to go work for Green Mountain United Way as a community impact director. Her job was to give communities direct help with poverty, jobs, housing, etc. "I realized that a lot of these issues came down to a lack of access to education,"  she said.
In 2009 she applied to Teach For America, a non-profit organization that has a mission to develop future leaders to strengthen the quality and excellence of education. There were about 40,000 applicants, and she was one of the 4,000 who got accepted. She moved out to McAllen, Texas, for the job. She wanted to work for TFA because she felt that there was a lack of access to higher education in poorer communities. "As educators, we've really got to come together," she said. 
In 2014 she made the move to Santa Fe. She said she came here for "the mountains and seasons." Though  moving here was a big change for her husband and herself, they have come to appreciate the beauty of New Mexico. 
Her most recent academic achievement was in 2015 when she received her master's degree in Educational Technology from the University of Texas. 
Ms. Gomez enjoys traveling and has been to almost all 50 states, but one of her favorites trips was to Peru where she explored the lost city of Machu Picchu. Even though she loves to travel, she hopes that she can stay here at Santa Fe High as long as possible and bring high energy to everyone she talks to.