Amy Compton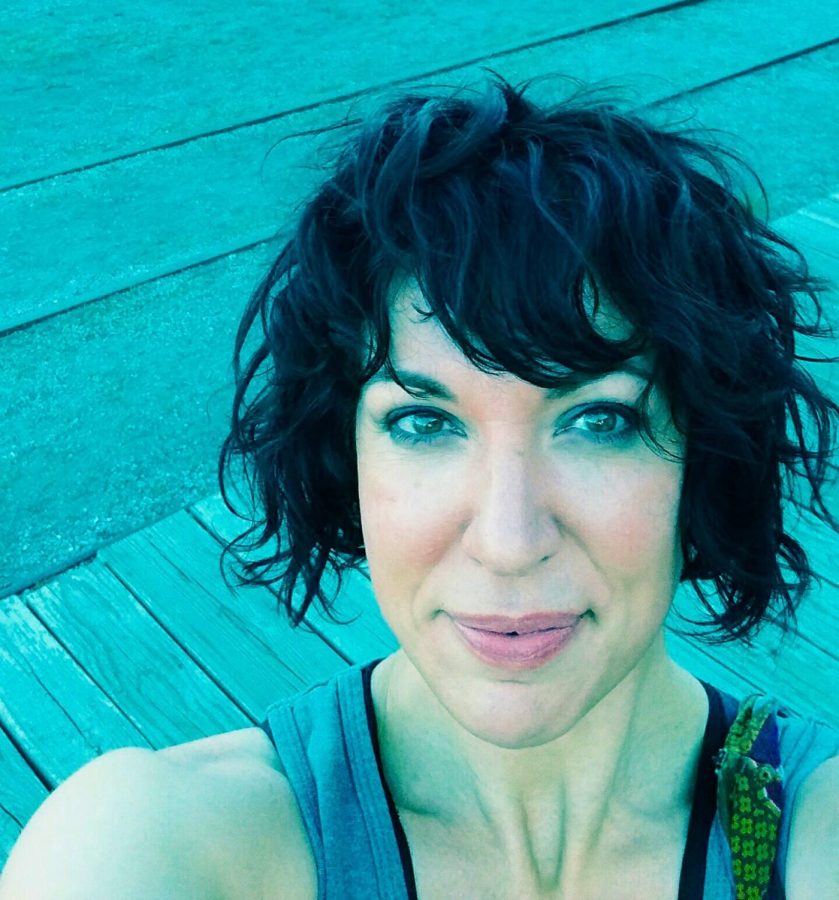 Amy Compton is a multi-talented dance teacher here at Santa Fe High with an extensive backstory.
She was born in southwest Ohio in Wilmington and then moved to Cleveland for college, where she attended Lake Erie College and graduated with a bachelor's degree in fine arts. She double-majored in dance performance and modern foreign languages (French and Spanish). She says it turned out that these majors were really similar — they were just different ways to communicate.
She lived in Cleveland for 20 years, working as a performer in contemporary dance and theatre companies, as a teacher in the dance program at Cleveland State University, and as a choreographer.
Ms. Compton studied language and music at the University of Grenada, Spain. She also studied flamenco dance there and performed it as a soloist. She was offered a position as an assistant teacher and got a master's degree in teaching while dancing.
Ms. Compton says that she was scared of becoming a teacher for a long time and kept turning down offers to teach because she valued it so highly. She says, "I was really afraid of not knowing enough," explaining that she didn't want to "mess up" people and not know the answers to their questions.
Eventually, she grew tired of side jobs such as waitressing and decided to try teaching because she had to pay her rent. She started teaching at Lake Erie College, and then Lakeland Community College, and found she really enjoyed it. As time went on, she says, "The more passion I had about giving people the information that I held…. I got braver and more confident in my skills." She says that she'd spent so long gathering her knowledge of dance and wanted to share it instead of keeping it all to herself.
With experience in theater dance, she explains that she finds herself incorporating storytelling and words into her dance making. She says this is the style she is partial to.
On top of her teaching Dance 1 here at Santa Fe High, as well as contemporary to the Dance 2 and Dance 3 classes, she teaches ballet, modern, and hip hop at The Dance Barns.
She also works for Art Works, an organization that brings students to dance shows at the Lensic; Ms. Compton then builds a curriculum around the dances the students watch. She teaches a pre-and post-class so they can try to make dances in the style of the choreographer that they saw, which is called "aesthetic education."
Ms. Compton has also taught jazz, body rhythm, African, and even Chinese fan dance. She says, "I guess I like teaching modern the best just because I feel like through that lens, you can access anything." She describes it as a foundation for all of the other types of dance she has learned.
Ms. Compton loves to paint, write short stories, and listen to and play music. She was a drummer before she was a dancer, and says she thinks this is why she enjoys rhythm dancing so much.
She has two daughters: Sophia, 11, and Isobel, 14.
"I like to go out in the world and see things. I like to go to museums and concerts, just go on walks and window shop and taste new foods and look at new things — just go out into the world and notice stuff. I like to do that for fun; it's free."
Ms. Compton says, "I am really enjoying my students, and teaching them, but also learning alongside them and learning from them, and I think it's a great community here. I'm really excited to be a part of it."