How to Make Homemade Biscochitos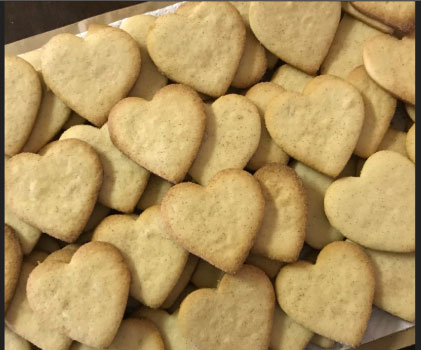 Dough Ingredients
6 cups flour
2 cups pure lard
1 cup sugar
2 eggs
¼ cup evaporated milk, warmed
3 tsp. baking powder
1 tsp. crushed anise or 2 tsp. vanilla extract
1 tsp. salt
Topping Ingredients
Cinnamon
Sugar
Directions
Preheat oven to 400℉.
Cream the lard, sugar, eggs, anise or vanilla, and milk together until smooth.
Combine the flour, baking powder, and salt with the creamed mixture until a doughy texture is formed.
Sprinkle flour over a clean, clear surface. Then roll out the dough to about ¼ inch thick throughout.
Select your desired cookie cutters and dip them in flour to prevent sticking. Then cut the dough into shapes with the cookie cutters.
On a small plate, make a mixture of sugar and cinnamon. Dip only the top part of each cookie into the mixture and place the cookies on an ungreased cookie sheet.
Bake for 10 to 12 minutes or until the bottoms of the cookies are golden brown.
Makes about 6 dozen cookies.
Helpful Tips
If the dough is sticky, add a little bit more flour so that it's easier to work with it.
Wipe the cookie sheet with a paper towel after each batch.