NJROTC Takes First Place at Duke City Invitational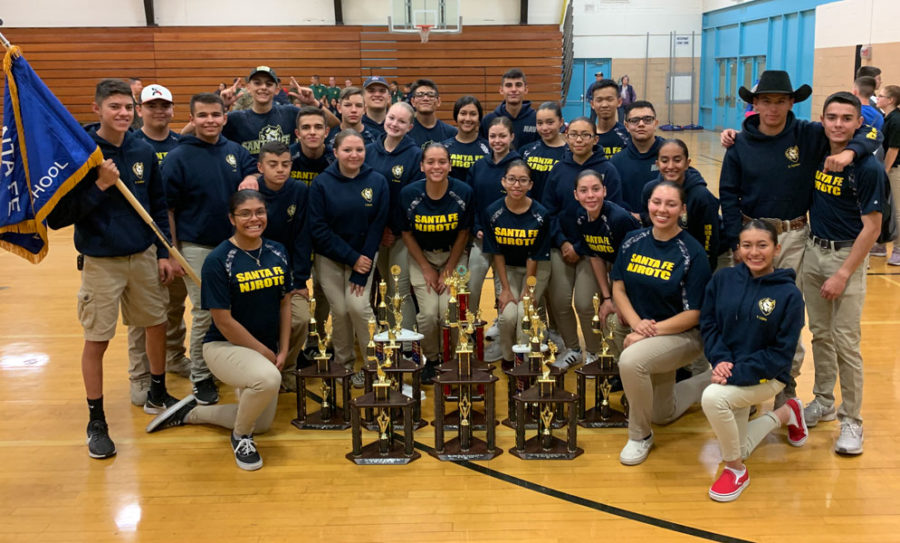 NJROTC traveled to Albuquerque on Nov. 16 to participate in the Duke City Invitational Drill Meet.
In addition, earlier in the week the Air Rifle Team shot the 2019 Major Bill Barker Air Rifle Competition, and those results were added to the drill meet scores.
At the end of the two days of competition, the Santa Fe High team came away as Sweepstakes Champions, first place winners of the entire meet.
Here are the results of the specific events:
3rd Individual Kneeling Position – Gabe Gonzales
1st Individual Standing Position – Gabe Gonzales
2nd Individual Prone Position – Angelica Segovia
3rd (Angelica Segovia) and 1st (Gabe Gonzales) Overall Sporter Individual
1st Overall Sporter Team
3rd Male Pull-ups – (Dalen Montoya)
2nd (Ruben Arrieta) and 3rd (Isaiah Ortiz) Male Sit-ups
2nd Male PT Team
1st Male Color Guard
1st Female Color Guard
2nd Armed Exhibition
2nd Overall Armed
2nd Unarmed Exhibition
2nd Overall Unarmed