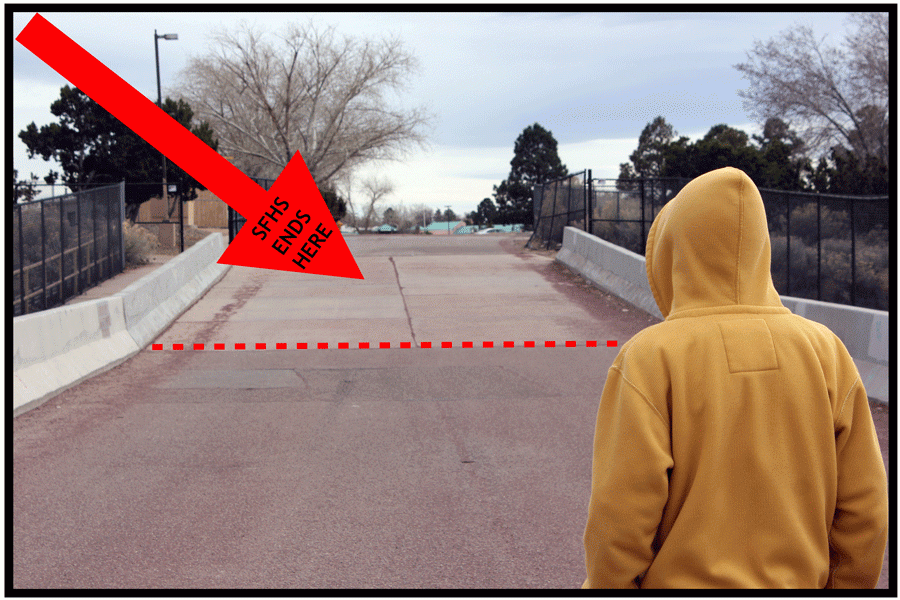 Bye-bye, South Campus
SFHS Makes Way for Early College Opportunities High School
February 23, 2016
Leonardo Da Vinci once said, "Study without desire spoils the memory, and it retains nothing that it takes in."
As I drove through Santa Fe High School's campus in late January, a similar idea repeated in a loop in my head as I left for the school district's BF Young building to meet with the man who has new ideas for our South Campus.
On Jan. 28, the school board voted in favor of a new school that will find its home on Santa Fe High's South Campus: Early College Opportunities, or ECO.
The district has hired a former Santa Fe High ASE teacher, Dana Richards, as the principal of this new "Applied Science Magnet School." It is Richard's office that I was on my way to, all the while hoping to find out more about ECO.
According to flyers handed out during board meetings and by school counselors, ECO will be a school that offers project-based learning and career-connected education. The school will feature these pathways: Sustainable Technologies, Building Sciences, Auto Tech, Auto Collision, Welding, Greenhouse Management, Aquaponics, Environmental Science, and Natural Resource Management, housed in existing buildings.
While I waited at the office of the slightly tardy, newly-minted principal, I perused the posters and buttons broadcasting the new ECO School, placed casually on the center table of the large office. Photographs of nature scenes taken by Mr. Richards' daughter decorate the walls.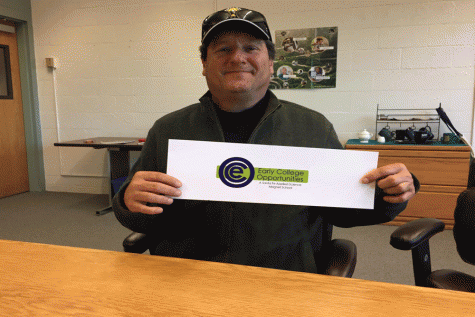 Mr. Richards arrived with enthusiastic handshakes and high-fives, excited to dive directly into the mission of his new school. And we found that there was something that we could both agree on.
According to College Board, colleges are often looking for student leaders who are creative and take initiative, and who not only take risks but also think outside the box. It would seem that the current school system doesn't necessarily measure up to these characteristics. In fact, it can be argued that today's schools systems are outdated and preparing kids for education standards that don't exist or are not as important as they once were.
Mr. Richards agreed, calling standard education "structured" and "patterned," and even compared it to a factory system.
Mr. Richards, a man who has worked in education for 27 years, has high hopes that ECO can change the standard.
"Instead of making the student fit into the cookie-cutter, I'll take the challenge. Me, my staff, my community partners — we're the ones who will rise to the occasion to create and structure the learning and give students a better chance in college and society."
"
Instead of making the student fit into the cookie-cutter, I'll take the challenge. Me, my staff, my community partners — we're the ones who will rise to the occasion to create and structure the learning and give students a better chance in college and society."
— Mr.Richards
According to the Santa Fe New Mexican and past Santa Fe Public Schools records, 20+ years ago, South Campus was home to a vocational-technology school, often referred to as "Vo-tech."
However, Mr. Richards claimed that while the Vo-tech school was great in practice, it still had some issues that he plans to avoid.
"One of the problems about Vo-tech is that it was a form of tracking," he said. "There would be this notion that some kids are 'college material' and some kids aren't 'college material.' And if the kids aren't college material, send them to Vo-tech. There was a subtle segregation that happened that contributed to inequity. And what we're saying instead is that while we are taking a different approach, you're still college material."
During the deciding board meeting, several former Vo-tech students spoke up in support for the new ECO School, as well as former and current ASE students who found their passion in the program.
"I am currently in the ASE program and have been affiliated with it since my sophomore year," said SFHS senior Ruby Lopez. "This Early College Opportunity program is important on so many levels. There is the simple idea that kids don't all learn the same."
Lopez went on to explain her own success in education, thanks to the ASE program. She also described the opportunity to receive an associate's degree as "amazing."
And honestly, the idea sounded great. But what will this new school mean for Santa Fe High?
Many teachers and members of the school community have mixed feelings.
"There are too many unknowns," said SFHS history teacher Carlos Caldwell. "We have no idea how it's going to affect Santa Fe High because there is not enough information out there about it."
Another teacher, Dave Forester, a Santa Fe High engineering teacher, also had concerns about ECO and its relationship with SFHS.
"
We should move to this modality where we bring resources to existing high schools instead of chopping up our high schools."
— Mr.Forester
"I think that more dual-credit opportunities for students and families in Santa Fe is a good thing," he said. "But my concern is that it will pull resources away from Santa Fe High. We should move to this modality where we bring resources to existing high schools instead of chopping up our high schools."
Several classes, including welding, auto mechanics, botany, greenhouse management, and environmental science, already exist on South Campus. What will happen to those teachers and students when South Campus is no longer part of SFHS?
According to Mr. Richards, a "two-way bridge" system will be employed that will allow any SFHS student to take a class ECO has to offer and vice versa as long as the schedules are compatible. Any student wishing to participate in sports will also be entitled to as long he/she is within the district's requirements.
However, ECO will have three-hour blocks, which would be difficult to work around given Santa Fe High's 90-minute classes. Mrs. Massey believes that there is still a lot to be determined when regarding this "passport system."
Mr. Richards also stated that if anyone is truly interested in what ECO has to offer, students as well as faculty are welcome to apply. Students from the ASE Academy will be grandfathered into the program, and no interzone transfer will be necessary for any SFHS student who is currently not a part of ASE but who wishes to attend. However, teachers will be treated like any other applicant, without any guaranteed positions.
About the teachers who would lose their jobs, Mr. Richards said, "Teachers have rights as SFPS teachers. Whatever their contractual rights are, that doesn't change. Some teachers have more seniority than others, and some teachers have more job rights than others. And they may choose to remain at SFHS or they may choose to do other things."
He added that ECO will be treated like any other "new and separate school" and its resources, such as electricity and water, will be divided accordingly. The arroyo that divides SFHS will act as a dividing line between ECO and SFHS.
Free transportation will take students to and from ECO and a midday shuttle will be provided to take kids to the Higher Education Center, on the corner of Siringo Road and Yucca Street, where other classes will be held.
According to Mr. Richards, he has been pitching ideas on ASE programs and magnet schools for seven years, first to former Superintendent Bobbie Gutierrez and then to Superintendent Boyd. ASE eventually became a program within Santa Fe High as a result.
Boyd was also developing similar ideas and the two would eventually come together to push the idea of an early-college magnet school that would focus on sustainability. The idea, Mr. Richards said, was modeled on and "slightly influenced" by similar programs in New York.
Data on the effectiveness of similar schools varies, but according to an Early College High School Initiative Impact Study performed by American Institutes for Research in 2013 about several New York schools, high school graduation rates rose from 81 percent to 86 percent and college degree attainment increased from 2 percent to 22 percent.
However, several schools that Mr. Richards personally visited showed more promising statistics on their success rates, stating that their graduation rates increased from approximately 60 percent to 90 percent.
ECO will work to develop a program that will inspire students and decrease dropout rates.
But most importantly, Mr. Richards stated that ECO will target motivation.
"Motivation is the big pivot point in education," he said. "We want every kid to have a sense of passion, a sense of engagement. Like when you lose track of time and you're really excited about what you're doing. When you get immersed in it and you don't want to leave or the bell to ring, then you know it's a good class. You know it's a good class when you don't want to leave."
After several more amicable high fives and thank-yous, I left Mr. Richards' comfortable office and returned to the January chill.
While the idea of project-based learning that develops passion in students is something I could stand behind, I couldn't help but think, why not implement this idea at Santa Fe High?
SFHS teacher Christopher Eadie has the same question.
"It's obviously going to reduce the elective choices that students on this campus will have. And many students come to Santa Fe High because of the variety of elective offerings," Mr. Eadie stated. He then went on to say that he is also concerned about where the money for ECO is coming from, especially when considering the "shortfalls and budgetary constraints" within SFPS.
"
Santa Fe High is unique in terms of the electives that we offer here. And to diminish them so abruptly is limiting the educational opportunities of our students here as well as the students of ECO."
— Mr.Eadie
"Santa Fe High is unique in terms of the electives that we offer here," said Mr. Eadie. "And to diminish them so abruptly is limiting the educational opportunities of our students here as well as the students of ECO."
Mrs. Massey, however, believes that SFHS is taking steps toward becoming a more "student-centered" school through the current academies. (The existing academies are Arts and Humanities, Innovation, and Culinary Arts and Hospitality.)
"ECO is an exciting new option for students who want to try a smaller school with an emphasis on sustainability and trades education," said Mrs. Massey. "On the main campus, we have been moving for the last two years to offer through the academies more opportunities for student-centered, project-based learning and matching student interests to their academies. This will not change with the opening of the Early College High School."
But for many, concerns remain as to the question, "Why not Santa Fe High?"
"Santa Fe Public Schools, like many large organizations, inhabits a bond-funded mentality," said Mr. Forester. "Every several years we use bonds to raise millions of dollars to create more infrastructure. And I truly believe that the school district gets more excited about building new facilities than making sure the old facilities are brought up to 21st century standards. And unfortunately, South Campus is caught up in this process. It's a dynamic resource that has gone without attention, and sadly its facilities are in a state of disrepair. And now that it is receiving attention, it'll no longer be a part of Santa Fe High School."
More information on Early College Opportunities may be found at: