Gluten-Free Goodies for Mid-Winter Wins
     During the holidays and winter months, it can be difficult to find good Gluten Free alternatives to classic cookie favorites. Take it from me; I was diagnosed with Celiac Disease when I was just 18-months-old, and have since lived with the challenge of finding delicious-tasting gluten-free recipes. While there is certainly no shortage of gluten-free  options, my mom's homemade GF gingerbread cookies will always be at the top of my list of favorites. 
My mom, Penny, converted her classic gingerbread cookie recipe to be gluten-free so that I could still enjoy these tasty cookies during the holidays. These light and crispy gingerbread cookies are a deliciously perfect addition to any holiday tradition for those who either can't eat gluten or who prefer not to eat it. 
      In this recipe, wheat flour is substituted for two types of gluten-free flour: Bob's Red Mill 1 to 1 Baking Flour, and Bob's Red Mill All-Purpose Flour. The combination of the light, 1 to 1 Baking Flour, and the heavy, All-Purpose Flour create a good balance that helps the cookies stay light and crispy, but also hold together due to the xanthan gum in the 1 to 1 Baking Flour that acts as a binder. 
Ingredients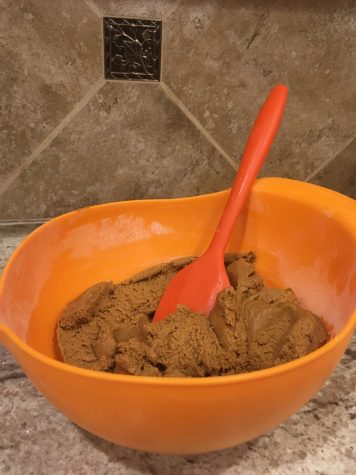 1 lb of butter  
1 cup dark brown sugar
1 large egg
½ cup of molasses 
*3 cups of Bob's Red Mill 1 to 1 Baking Flour
*2 cups of Bob's Red Mill All-Purpose Flour
1 tbsp of ground ginger
½ tsp of ground cloves
1 tsp of cinnamon 
¼ tsp of baking soda
½ tsp of baking powder 
¼ tsp of salt
*If you don't have these types of flours, add 5 cups of a different type of GF all-purpose flour, and if it doesn't contain xanthan gum, add around 2 tsp of xanthan gum in.
Instructions
Preheat the oven to 375 degrees Fahrenheit 

Cream the butter and the brown sugar together in a bowl.

Add in the egg and mix

Add the molasses and mix

In a separate bowl, sift together the flour, ginger, cloves, cinnamon, baking soda, baking powder, and salt.

Add ⅓ of the flour mix at a time to the butter, sugar, egg, and molasses mixture and beat it well. 

When the dough is ready, it will clump together in the middle of the bowl and not stick to the sides. 

Cover the bowl of dough in cling wrap and refrigerate for at least 30 mins.

Line baking sheets with parchment paper.

Cover a board and a rolling pin with flour and roll out a fist-sized ball of dough 

until it's around ¼ inch thick.

Cut with a selection of cookie cutters.

Lay onto a baking sheet and bake for twelve minutes.

Repeat until all the dough is used up.

Remove the cookies and set them out to cool.

Once the cookies have cooled, sprinkle powdered sugar over them.