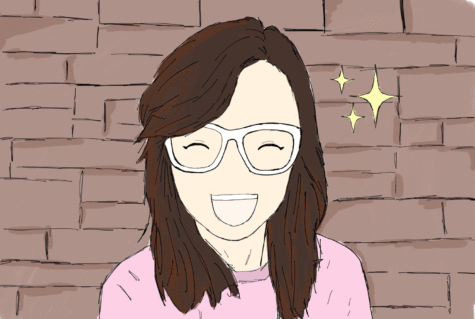 Ramona Park is a senior who's still having issues processing the fact that this is her last year of high school. If you don't see her coming, you'll definitely be able to hear her because she's louder than the OG dad sneeze.
Although it seems like she has her life together, in reality, she's the kid who turns in homework stained with tears and barbeque sauce that was
clearly
finished three minutes before the tardy bell rang.
Even though she thinks she's cool, she's really just a sad wannabe thug who spends most of her life watching Netflix and thinking of great comebacks
after
the argument has ended. If you are ever blessed (just kidding) enough to meet her, please at least pretend to laugh at her jokes. Not all of us can be winners, okay?
Yeesh.
Ramona Park, Editor
May 10, 2018

Truth Be Told: Mother's Day is May 13!

(Story)

Apr 03, 2018

Truth Be Told — A Comic by Ramona Park

(Story)

Mar 14, 2018

Commentary: Walking Out Makes a Statement, But Staying Out Makes Change

(Story)

Mar 01, 2018

Pro-Ana and Thinspiration: Can #MeToo Finally Spark Body Positivity?

(Story)

Feb 28, 2018

Truth Be Told — A Comic by Ramona Park

(Story)

Jan 11, 2018

Truth Be Told — A Comic by Ramona Park

(Story)

Nov 28, 2017

Truth Be Told — A Comic by Ramona Park

(Story)

Nov 20, 2017

Model UN Club Wins Three Awards at NM Conference

(Story)

Oct 31, 2017

Truth Be Told — A Comic by Ramona Park

(Story)

Sep 29, 2017

Why We Need REAL Sex Education

(Story)

Aug 22, 2017

Seven Back-to-School Essentials — A Comic by Ramona Park

(Story)

May 16, 2017

Truth Be Told — A Comic by Ramona Park

(Story)

Apr 21, 2017

Truth Be Told – A Comic by Ramona Park

(Story)

Apr 06, 2017

Truth Be Told – A Comic by Ramona Park

(Story)

Mar 07, 2017

The Emergence of E-lebrity Culture

(Story)

Feb 28, 2017

Truth Be Told – A Comic by Ramona Park

(Story)

Feb 03, 2017

Your New Chromebook: Who Paid For It and Why?

(Story)

Jan 05, 2017

Truth Be Told — A Comic by Ramona Park

(Story)

Jan 05, 2017

Truth Be Told — A Comic by Ramona Park

(Story)

Jan 05, 2017

Truth Be Told — A Comic by Ramona Park

(Story)

Jan 05, 2017

Truth Be Told — A Comic by Ramona Park

(Story)

Dec 09, 2016
Dec 09, 2016
Nov 22, 2016

New Vending Machines: No Soda-Pushing Here

(Story)

Nov 03, 2016

High School Hacks

(Media)

Oct 25, 2016

Who Really Elects the President?

(Story)

Sep 28, 2016
Sep 22, 2016

Craze for Korean Pop Culture

(Story)