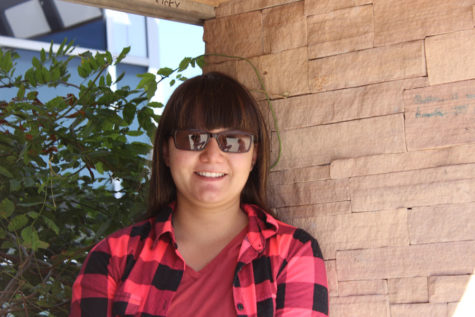 Natalia Lucero is an animal lover who has 18 pets: two dogs, six chickens, three hamsters, one mouse, two fire-bellied toads, one pac-man frog, one spadefoot toad, and two bettas. She is fascinated by how unique animals can be.
Natalia enjoys reading sci-fi and murder mystery novels. She loves the way words connect to make ideas and stories. "Books are a way to escape to another world and to discover new concepts you've never thought possible," she said. Her favorite sci-fi book series include
The Maze Runner, The Hunger Games, The Chronicles Of Narnia, Miss Peregrine's Home For Peculiar Children,
and
A Dog's Purpose.
These books have an underlying message that just connect and make sense to her. Some of her favorite murder mysteries include
The Innocent, Hold Tight, Home,
and
The Woods.
She likes the author Harlan Coben because, she said, "His novels will leave you wondering if your very existence connects to something much greater than you ever realized possible."
She also likes nature: "That's pretty cool too."
Natalia Lucero, Author
May 07, 2019
Mar 28, 2019

Paper Trays: Nearly 5,000 a Month Sent To Landfill

(Story)

Feb 21, 2019
Feb 20, 2019

Dissection in Science Classes: Is It Necessary?

(Story)

Dec 03, 2018

Do Tests Determine What We Learn?

(Story)

Nov 20, 2018

Heart-wrenching Memoir: A Stolen Life

(Story)

Oct 04, 2018

Norah Tullman-Kaltenbach

(Story)

Oct 02, 2018

For The Love Of Animals

(Story)