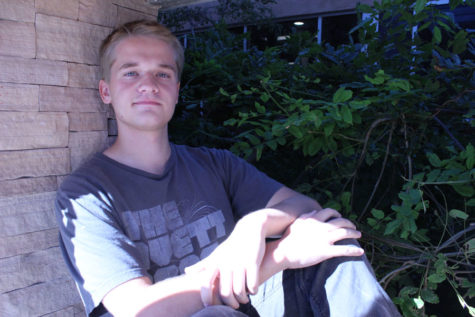 Space. He'd leave it at that if he could, but that's not allowed.
 Ever since the Falcon Heavy launch back in February, Max has found himself with an extreme desire to become an astronaut, or at least to get a job at NASA or SpaceX. He totally believes that space is where we as a species belong, and there isn't enough of a demand for the advancement of what we can do in space and how we can further push our limits like we did in the 1960s.
But when he's not ranting about the mistakes the U.S. has made by discontinuing the Apollo Program or the Constellation Program, he's probably not doing a lot because for some reason this school thinks it's a great idea to end the day at 4:00, and he lives half an hour away, so he can rarely ever do anything outside of school. Which means he can only ever do anything on the weekends, which is usually hiking.
Ski Santa Fe has to be one of Max's favorite places in the world to hike during the fall. All the trees are a warm orange and yellow, the smell is cool and crisp, the hike is always worth it when you get to the top and see all of Santa Fe, and the cows too. There are a lot of cows that just graze about there.
If he could, Max would have a picture of his dog here. Everyone deserves to see him. Everyone. He's a Pitbull/Rhodesian Ridgeback mix. He's amazing — he has the best smile. He likes to come along with us when we clean the tipi; it's his favorite place.
 Occupy Mars, 2024!
Maximilian Looft, Author
May 02, 2019

Welcome Back, Falcon: Successful Second Launch of Falcon Heavy

(Story)

Apr 12, 2019

Beyond the Event Horizon: First Ever Pictured Black Hole

(Story)

Apr 08, 2019

Spacewalk Controversy: All-Woman Walk Will Have To Come Later

(Story)

Mar 25, 2019

SLS: Is it worth it?

(Story)

Feb 19, 2019

The Lego Movie 2: A Solid Second Part

(Story)

Feb 18, 2019

NASA Bids Farewell To Rover Opportunity

(Story)

Jan 25, 2019

TESS Discovers Planets; Starhopper Begins

(Story)

Dec 04, 2018

Fallout 76: It's Complicated

(Story)

Dec 04, 2018

Digging Deep Into Mars: InSight Begins Its Mission

(Story)

Oct 18, 2018

Evidence of Distant Moons, Voyager 2 To Reach Interstellar Space, Falcon 9 Launch Plumes

(Story)

Oct 04, 2018

Incomprehensible Ramblings About The Potential Future of NASA

(Story)

Oct 01, 2018
Sep 25, 2018

SpaceX's First Private Passenger, Tiny Satellites Halfway To Mars, and The Mysterious Brown Barge

(Story)

Sep 17, 2018

Dawn Probes End, Curiosity 360-View, Ceres' Bright Spot

(Story)

Sep 10, 2018

Mars Sandstorm, Saturn's Aurora, Pence Speaks

(Story)

Aug 30, 2018

Astronauts Ready To Enter Space from U.S. Soil

(Story)

Apr 23, 2018

Virgin Galactic: Bumpy Past, Smoother Future

(Story)

Mar 07, 2018

Legends In The Making: Albuquerque, March 22

(Story)

Feb 16, 2018

The Falcon Heavy: Our Beckoning Future

(Story)

Feb 07, 2018

North Korea At The Winter Olympics: Will It Ease Or Heighten Tension On The Peninsula?

(Story)

Oct 18, 2017

Battlefront II: Will It Live Up To The Hype?

(Story)

Oct 06, 2017

Fleet Foxes Perform In Santa Fe

(Story)

Sep 20, 2017

Planetary Protection Officer: New Job at NASA

(Story)