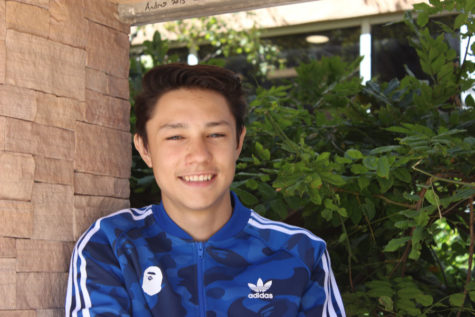 Lincoln Byrd is in his sophomore year. Born in Orlando, Fla., he lived in New Hampshire for seven years until coming to New Mexico. He is very interested in skiing, fashion and sports (watching sports, not actually playing them). Lincoln has a passion for listening to country music, Ariana Grande, and some rap. He likes hanging out with friends at school, and he really enjoys writing. Lincoln really loves journalism, and it is by far his favorite class in school. He also works for the Generation Next section of
The Santa Fe New Mexican.
While he isn't a big fan of schoolwork, he does well in his academics and he is looking to make The Demon Tattler's sports section better than last year, and to pursue his dream of becoming a sports commentator.
Lincoln Byrd, Author
May 05, 2019

Freshmen College Athletes Going Pro — Is It a Problem?

(Story)

Feb 28, 2019

An exhausting trip

(Story)

Feb 11, 2019

K-Pop Group BTS Makes History at Grammys

(Story)

Jan 24, 2019

Patriots vs. Rams: Predicting this Super Bowl Rematch

(Story)

Dec 10, 2018

The Grinch: Tired Remake of a Holiday Classic

(Story)

Nov 08, 2018

Demon XC Runners Head to State

(Story)

Oct 02, 2018
Sep 25, 2018

SFHS Reacts to New Advisory Period

(Story)

Apr 03, 2018

Demon Tennis: Midseason Report

(Story)

Mar 02, 2018

The XFL Returns—Seriously

(Story)

Feb 06, 2018

Super Bowl Reactions

(Story)

Jan 25, 2018

Who Will Win Super Bowl LII?

(Story)

Nov 16, 2017

2017-18 NBA East and West Conference Predictions

(Story)

Oct 17, 2017

Commentary: MLB Playoffs — Byrd Predicts The Postseason

(Story)

Sep 21, 2017

Preseason Injuries Cause NFL Ratings To Dive

(Story)