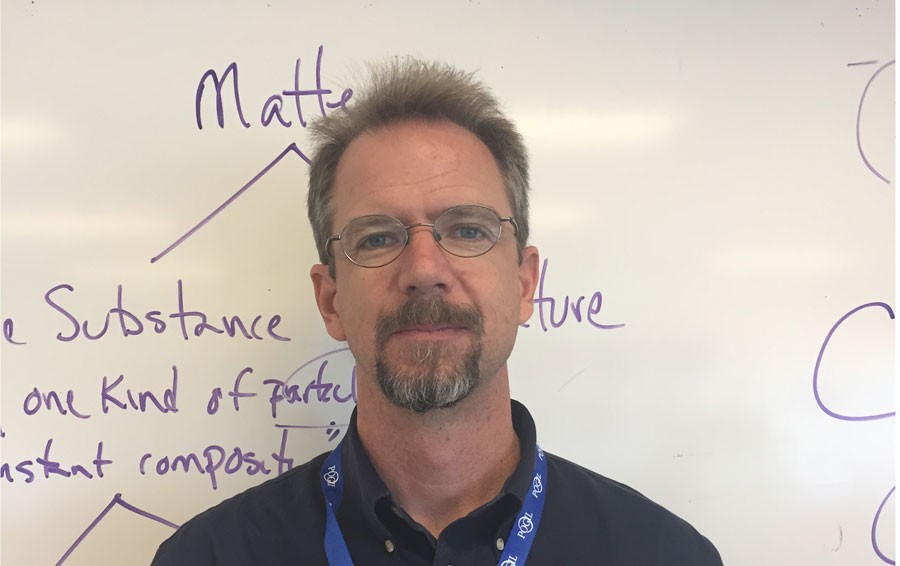 Nina Wickert
"I don't want to buy anything, sell anything, or process anything," Derek Buschman said, explaining that this quote, from the movie Say Anything, expresses why he became a teacher.
However, Mr. Buschman's career as a teacher did not start with teaching high school Chemistry. He was first a Philosophy professor at the University of Alaska Anchorage, and later at Purdue University.
Originally from Colorado, Mr. Buschman got his bachelor's degree at Regis University and his Ph.D. at Purdue.
Six years ago, Mr. Buschman was hired at Santa Fe High to teach Biology, which he taught for two years. The change came when Mr. Pitman asked him to take AP Chemistry off his hands.
His love for the Science developed as he saw that Chemistry involves a lot of critical thinking and problem solving. "What I enjoy the most is seeing students whom I taught in Honors Chemistry progress in their knowledge when they take AP Chemistry," he said. "Their intellectual ability grows over that time period."
Mr. Buschman lives in Rio Rancho and commutes to school every day on the Rail Runner.  He said, "I have no intention of ever moving to Santa Fe, nor would I rather teach in Rio Rancho — I'm quite happy with the current arrangement." He and his wife have two children, both currently in high school.
For fun, Mr. Buschman said, "I run, read science fiction, listen to jazz and write POGILs."