Wakanda Forever! Black Panther Does Not Disappoint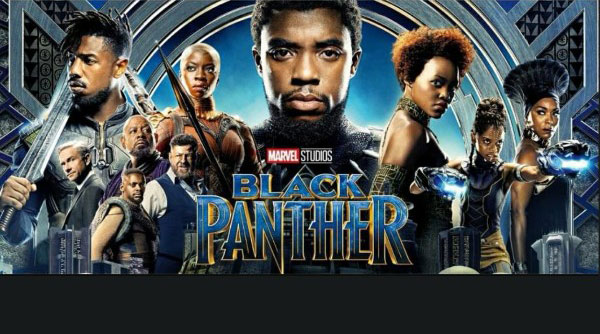 Hang on for a minute...we're trying to find some more stories you might like.
Review
Black Panther, the new Marvel superhero movie, had a lot to live up to with the spree of recent superhero movies being released, but it is a resounding success.
The film is full of humor as well as unique fight scenes that set it apart from other movies. It also attacks issues of race in a format comparable to the Civil Rights Movement. Characters in the film are direct contrasts to iconic leaders such as Martin Luther King Jr. and Malcolm X. But aside from this politically stimulating aspect, the movie is just plain fun. It provides a window into a culture that is not seen a lot in media and is full of the color and life that many classic Marvel movies lack.
The actors are powerful, and the movie itself is moving, playing on deep themes such as family, loyalty, and power, with each character facing their own struggle. It poses questions about the characters' values that are reflective of the struggles many face in everyday life, and it ties the fantastic world of superheros to the harsh realities of our own world full of bias, race, and hate.
Black Panther is different from other Marvel movies. First, it gives a global perspective instead of just being based in the United States. At the same time, it is always fun to see how new Marvel movies tie into the entire Marvel universe, and Black Panther succeeds in tying in with the rest of the Marvel universe of superheroes.
Not only does it have powerful male leads, but the film also features strong female characters who are inspiring figures both on and off the screen. Lupita Nyong'o, one of the lead actresses, is involved in a couple organizations, including Mother Health International, an organization tasked with provided birthing centers to women in Uganda. The different languages and cultures highlighted in the film are amazing to watch, and the humor of certain characters helps the movie come to life.
The actors, including Chadwick Boseman (T'Challa) , Michael B. Jordan (Erik Killmonger), Lupita Nyong'o (Nakia), and Danai Gurira (Okoye), certainly bring their game in this cinematic project. They play a culturally different cast from that which we usually see in blockbuster movies, and their acting and the way they bring the movie to life is phenomenal.
Black Panther smashed box office records, topping $700 million in the second weekend of its release. This is the first mainly black-cast movie to break sales records, and Marvel's first movie with a mainly black cast. These sales show that movies with black casts are not just for small-niche audiences, and also that they can succeed overseas, something many industry insiders doubted.
Action-packed with various battle scenes and scenes using unique effects and lighting, this movie is exciting and intellectually stimulating all in one. It has a hit soundtrack, hit reviews, hit actors, and a hit plot, so it is just an all-around home run. Expectations for this movie were extremely high, and mine were definitely met.