Demon Soccer Begins Season With Positive Record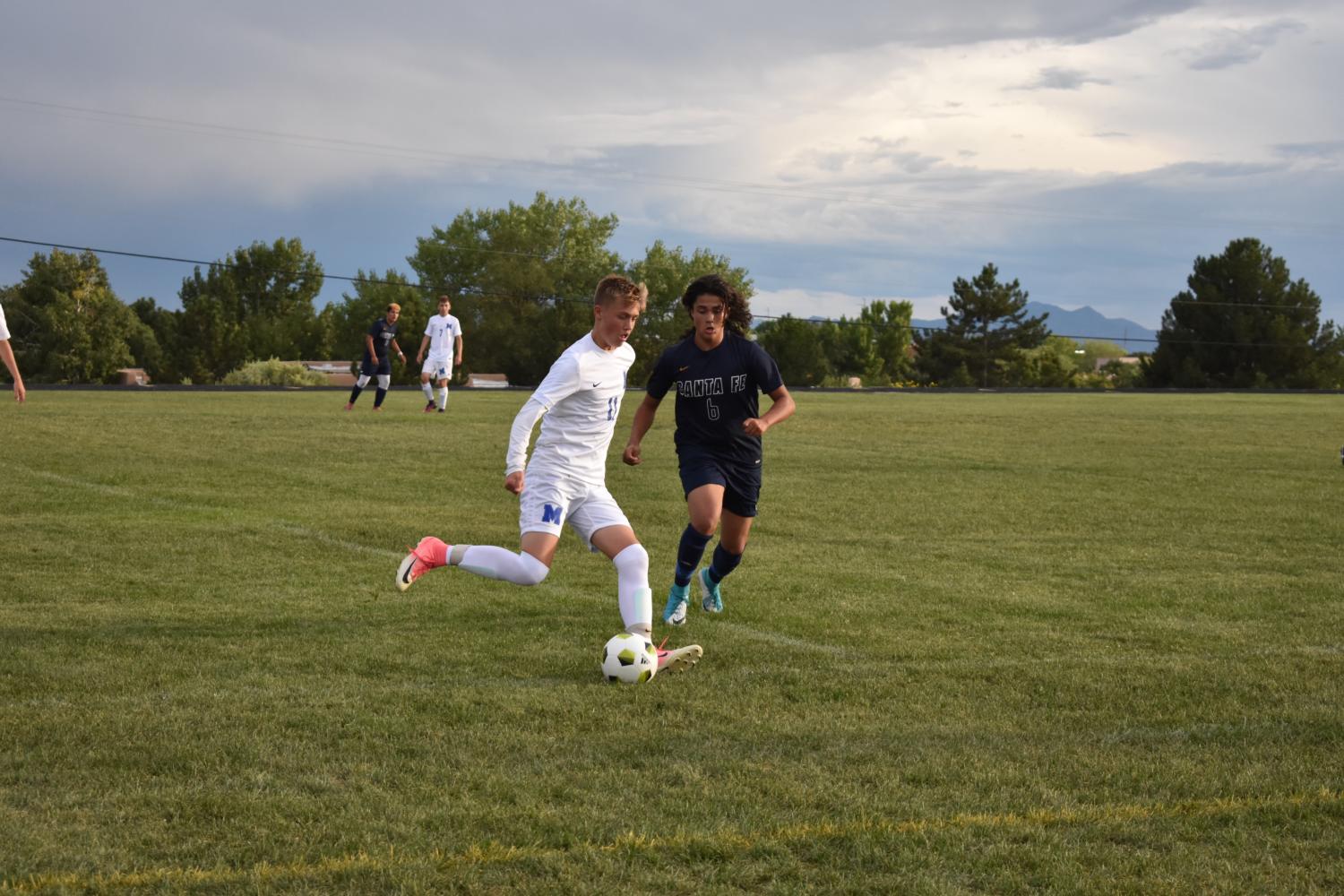 This boys' varsity soccer team has started the season with a positive record, 4-3-1.
The first game, against Santa Fe Prep, went back and forth the whole match but ended with a disappointing draw. Team captain Matt Hunter got the only goal for SFHS, and Michael Allison got the equalizing goal for Prep.
Next the Demons played city rival Saint Michael's High School, ending 3-1 with a win for Santa Fe High. The first goal was scored by Matt Hunter and the next by Danny Cain. The only goal for Saint Michaels was scored by Hayden Lee, but SFHS quickly responded with another goal from Jonathan Manzanares.
Next up was a tournament in Roswell with some tough competition. The first game, against Carlsbad, started off looking good. The first half ended 2-0 for Santa Fe High with both goals scored by Matt Hunter. But the Demons suffered a communication breakdown in the second half, and Carlsbad came back 3-2.
The next game, against Valencia, started out as a clash. The boys came out strong, but Valencia wanted the win just as bad. After a tense back-and-forth, Santa Fe High got a lucky break with a penalty kick in the box, taken by Matt Hunter, putting the Demons in the lead. After that, Matt scored another goal, but Valencia caught up. Tied 2-2, the back-and-forth resumed, but this time, Matt scored a deciding goal, putting the team up 3-2, and Max Lyons secured the win with another goal, putting the final score at 4-2.
The final game of the tournament was a rout against Goddard, with a score of 8-0, Demons.
The next game, against Taos, ended 3-0 — another quick win for Santa Fe High. Gabe Markwiese, Sebastion Lopez and Matt Hunter were the scorers of the game.
However, the game against another city rival, Capital High School, was a loss, 1-2. Although the Demons have lost to Capital for the past few years, this year the boys believed they had a chance. But prior to the game, the starting goalkeeper, Sergio Equnio, was unable to play, and Erik Soto had to step in.
The game started with Capital making strong offensive plays. They scored the first goal, but the Demons made a quick comeback with a goal by Jonathan Manzanares, evening out the score to 1-1. Shortly after, a clash between the captains of each team left both players injured, and they were pulled out of the game. Matt Hunter left the field with a gash over his right eye, which required stitches. The Demons then conceded another goal and the game ended as a loss, 1-2.
The boys started their district games on Sept. 19 with a match against Sandia, which ended as a loss, 2-0.
The next game will be against Bernalillo, away, on Sept. 21.