Sammy Martinez Wins State in Wrestling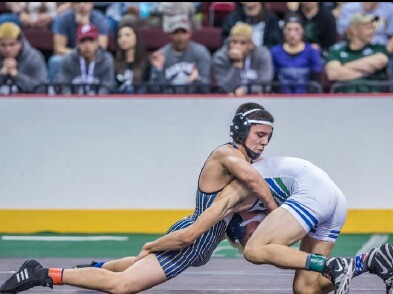 Demon wrestling has been on the come-up over the past few years. This season, the team accomplished feats that have never been done at Santa Fe High, or even in Santa Fe before. Sammy Martinez will go down in Santa Fe history as the first 6-A State Champ.
But there's more.
Demon Wrestling took third place at the Joe Vivian Classic with only nine wrestlers. This is the best finish by any team in Santa Fe ever, at one of the hardest tournaments in the state.
The wrestling team also managed to place 11th at the 59th Annual Rocky Welton Invitational in Kansas, which is attended by teams from around the country. Three Demon wrestlers made the podium: Isaac Beltran at 113 pounds took third place, Alex Abeyta at 138 pounds took fourth, and Isaiah Martinez at 152 pounds took fourth as well. Ivan Marquez, Zack Jaquez, Adam Peña and Sammy Martinez placed eight through twelve.
This hardworking team made its presence especially known at the NM 6-A State tournament by placing seventh as a team in the largest division in the state. At the tournament, Sammy Martinez III, a Santa Fe High sophomore, took home the gold when he defeated James Emmer of Rio Rancho High School, who had a record of 39-17 this season.
Sammy defeated James in an intense match with the end result being 5-2, with Sammy scoring his final two points in the last seconds of the match when his opponent attempted to throw him but failed, allowing Sammy to recover and gain his final points.
Looking back at how he felt before his final match, Sammy said, "I felt confident and very determined. I just focused on going in strong."
Before facing James for the state championship title, Sammy had to defeat three other opponents on his side of the bracket. Although some of those opponents gave him an intense battle, he finished on top each time, allowing his advancement in the tournament.
Sammy has been wrestling since he could walk and has been a member of the Patriot Wrestling Club for years, a club that had four state champions this year, including Sammy. He says that Patriot Wrestling crafted his wrestling style when he was younger and has definitely had a big impact on him and his wrestling.
Sammy also thanks his Santa Fe High coach, Stephen Burns. He credits Burns as being his biggest influence and says Burns has gotten him to his current level. Sammy is sure Burns will help him grow "even more in years to come." Sammy says he will only get better and plans on winning state championships his junior and senior years as well.
Sammy will go down in Santa Fe history as the first 6-A state champ. He said, "I feel honored and really accomplished."