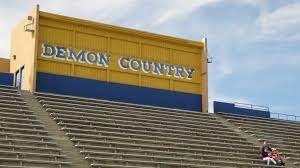 After months of remote learning, Santa Fe High School – like many schools across the country –  announced in early April, that all students were welcome to return to in-person learning. Returning students are required to wear masks, socially distance, and follow all CDC sanitation guidelines.  
"I would say the atmosphere is a lot better physically. My mind can finally function in a driven way being back in that environment," said Larissa Marti.  
Students who still aren't yet comfortable with the idea of in-person learning are able to remain remote, but must continue to attend their normal Google Meets.  This hybrid system requires teachers to provide both in-person and online instructions.  
In March 2020, COVID-19 forced most schools to shut down and  solely implement virtual, online learning instruction. While administrators, teachers, parents and students all did their best to make this as 'normal' as possible, the disadvantages and pitfalls of virtual learning quickly became clear. And, unfortunately, students had little opportunity to share thoughts and opinions about these sudden, life-changing shifts. That is not to imply, however, that students simply didn't have anything to say regarding the seemingly sporadic jumps  from in-person learning, to remote learning, and back again. Unsurprisingly, they did have things to say – a lot of things to say. 
The Demon Tattler sought out to hear these valuable thoughts and opinions. .  How do students really feel about these sudden changes and what do they think about making the return to 'normal'?  
"Truthfully I would argue that virtual learning gives students the ability to schedule their time wisely in a more productive way," said Daniel Bustillos. "Personally, I had a comfortable time learning from home. It made me value my time and learn time-management skills." 
In addition to managing virtual classes and homework, many students also gained employment during the pandemic, which added yet another factor to what was already an abnormal schedule. 
"I feel like I was given the option to attend either types of learning. I really appreciate that the administration would take in consideration the set schedules for students that have jobs,." said senior Maria Guerrera, who works downtown. said Maria Guerrera. 
Similarly, after months of being postponed, sports were allowed to start up in March, providing student-athletes with much-needed social interaction and physical reprieve. also made their return this year. 
"Football is still football on the field, but one thing I could never get used to is playing and seeing less fans on the stands," said Kevin Garcia, a senior and starting player for the Demons. "But I do like that school gave us an opportunity to play this year," said Kevin Garcia 
Despite a year that saw unfathomable illness, social unrest, and political upheaval, oOverall, SFHS students were able to look on the bright side and remain positive. reviews were positive. 
"SFHS looks so much different but the environment is still the same.   Teachers' work should be valued more for the effort they put into teaching virtual and in-person students," said senior Jocele Lopez. "I really enjoy being back for the last bit of spring." 
Even if in-person learning is only happening for the last bit of the year, many students – seniors in particular – are thrilled at the possibility of being able to return some capacity. 
"I like being back. I honestly had no clue that I would be but one thing that is very sad to all us seniors is what was supposed to be our year turned into a rush to get out; at least that's what it feels like," said Zandra Kelsler, a senior and Student Body President. "It's sad to see the class of 2021 did not get their full senior experience with senior pranks, prom, and a formal graduation all because of an unexpected pandemic. Other than that, though, the school continues to feel like home." 
Santa Fe High School gave many students options and a majority of students appreciated the consideration public schools gave in giving students the ability to return in person. Desks still sit and posters still hang. To most, the Demon home will never fade.