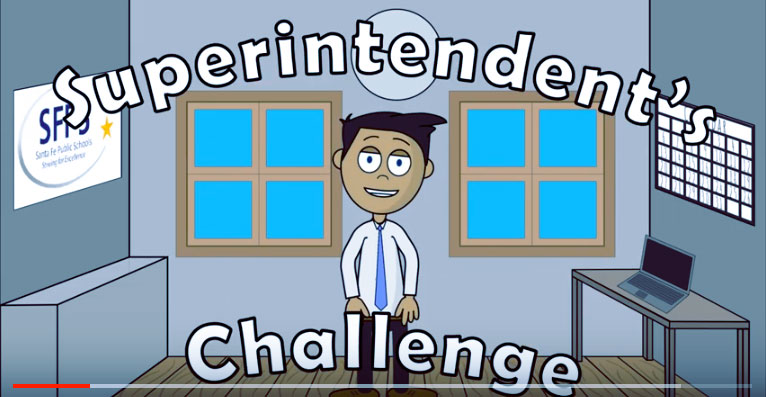 Fourteen Santa Fe High students have won the Superintendent's Challenge, a challenge intended to motivate students and keep them engaged despite the absence of physical school, extracurricular activities, and social contact. These students won by creating art, writing essays, computer modeling, and more.
Superintendent Veronica Garcia has announced the winners in five rounds:
Round 1 winners included freshman Carly Johnson, sophomore Sachi Mitchell, and junior Maime Hess.
Round 2 winners included sophomore Jose Alfredo Esquivel and senior Riannah Varela.
Round 3 winners included sophomore Pearl Mariano, junior Madi Johnson, and senior Luz Rivera Barrera.
Round 4 winners included sophomore Rachel Anderson and senior Leila Pierpont.
Round 5 winners included freshman Christina Chavez and senior Luke Miera.
Round 6 winners included sophomore Marisol Serna and senior Desiree Perales.
Superintendent Garcia announced the challenge on March 23 through a video illustrating that students could earn cash prizes if they submitted work in any sort of creative medium in their respective grade. One student per grade is chosen, drawing from the entire district. Students are also able to submit in multiple categories. If a student cannot submit their work digitally, there are grab-and-go distribution sites for them to access.
More than 2,000 entries have been submitted for the contest. The official SFPS statement announced that a total of $25,000 in cash and gift cards, which was funded through private donors, have been given to the winners. The amount of money awarded per round has increased, beginning with Round 1 winners receiving $100, Round 2 receiving $125, Round 3 receiving $130, Round 4 receiving $135, and Round 5 receiving $140.
A sixth round is in the works. Students who would like to contribute to the Superintendent's Challenge can email Joseph West at [email protected] for details.